The Touch Screen Control offers "On The Fly" Adjustments, Easy Setups, and Simplicity for Operators!
Overview of TechDrive Control Stations and Touch Screen Functionality:
The Main Station houses an Allen Bradley Panelview Plus 1000 touch screen control. Parameters, machine settings, drum shaft timing, speeds and feeds, manual and running functions can all be controlled from here.

Hard buttons for Emergency Stop, Main Motor, Feed, Power Crank, and Cycle Stop (Cycle Finish) are also on the Main Station. Use of the hard buttons for regular use is recommended in order to extend the life of the touch screen. Station Control function is available in the Production Screen as shown below:
Main Control Station showing "Production Screen"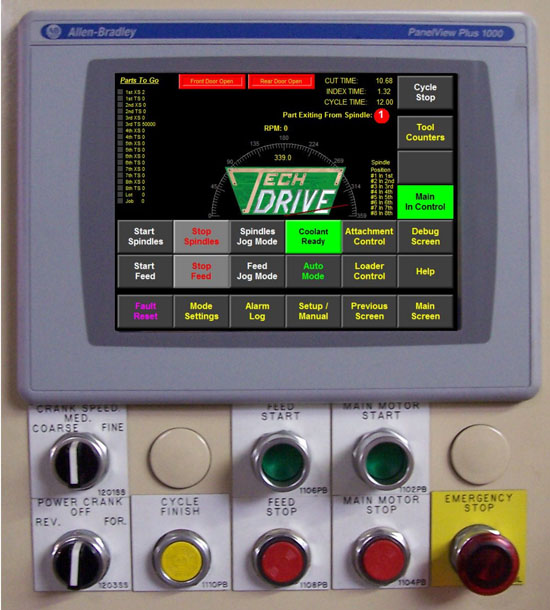 The Production/Automatic screen is the screen you would leave up during normal running of the machine. Live status of RPM, drum position, spindle number position, tool and part counters are displayed. Control buttons for "Start/Stop Spindles" (Main Motor), "Start/Stop Feed", toggle spindle and feed "Jog Mode", toggle "Auto/Setup Mode", and "Coolant Off/Ready" (Auto). A "Fault Reset" button is provided as well as convenient screen access buttons.
Main Screen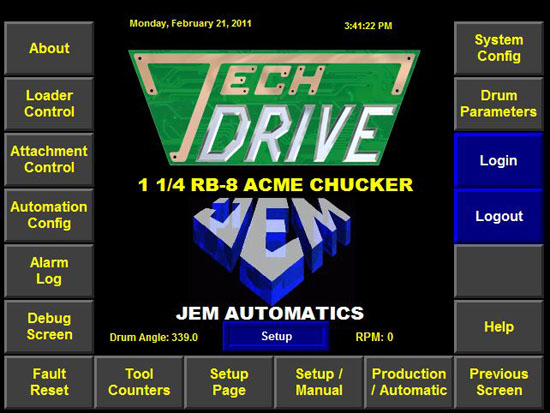 The Main Screen is the first screen to load on power-up. Gray buttons with yellow text load other screens. The blue text display box lower center displays the current user logged in. On power-up the user is "Default".
Tool Wear Counter Screen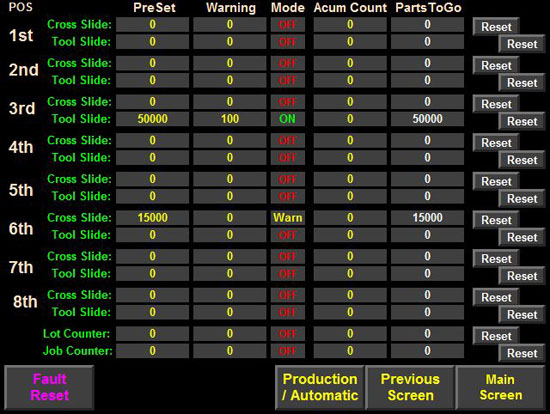 Pre-settable tool life counters are available for counting down cycles remaining before changing of the tool is required. When the count reaches zero the machine stops, and the operator can press the "reset" button to reset the counter after replacing the tool.
Fault Alarm Banners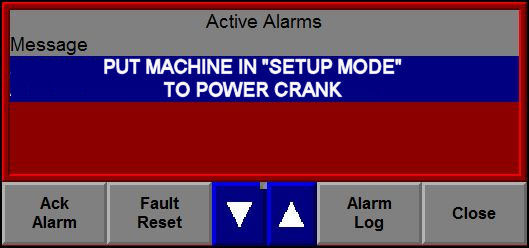 Alarm banners explain the fault in plain english, and prompt the operator to the solution.