Passwords and Screen Access Permissions
Screen permissions easily restrict the operator from performing costly mistakes.
Some screens are restricted by alphanumeric password.  By default, there are five access levels to the TechDrive system, and each higher level allows access to the screens available at the levels below it:
Default (no password) - Allows access to the Main Screen, About Screen, Help Screen, and Debug Screen
Operator - Allows access to the Production Screen, Setup/Manual Screen, and Tool Counter Reset
Setup - Allows access to the Speeds and Feeds Screen, Attachment Controls, Tool Counter Setup, Drum Parameters, Save/Load Part Storage Screen, and Loader Control (chuckers) NBT (bar machines)
Maintenance - Allows access to the Parameters
Admin - Allows access to the System Config Screen
Of-course this configuration may be customized to your specific requirements. Access permissions to certain screens can be changed, as well as the addition of more (or less) access levels.
View the current access level from the Main Screen, or press it to log in with other credentials: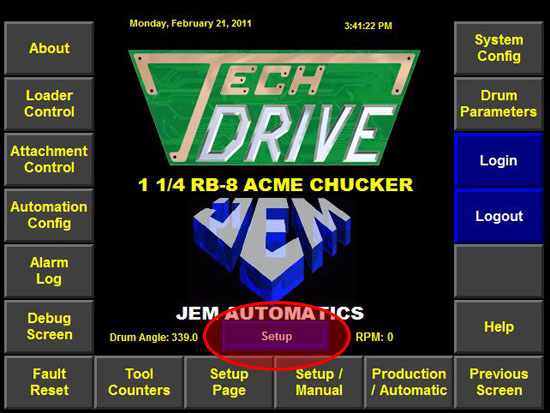 A banner will pop up prompting you to log in:



Pressing either "User" or "Password" above will bring the alphanumeric screen shown below: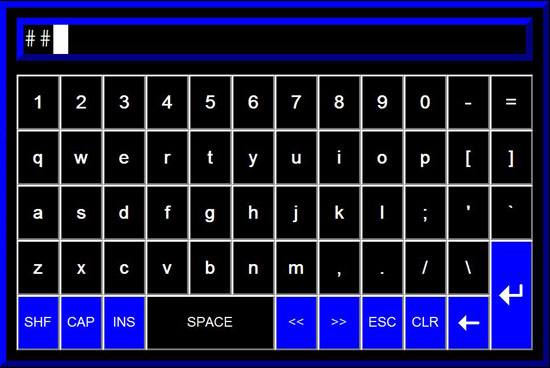 After entering your credentials for each you press the "Enter" key below (arrow) to login: