Upgrade your Acme Gridley cam driven cross slides with our new single axis Servo Cross Slide retrofit!


Single Axis Servo Cross Slides for Acme Gridley Screw Machines:
Single axis servo conversion utilizes the existing Acme Gridley cross slide for tooling compatibility
FANUC servo motors with 2-year warranty starting upon delivery to you the end user
User friendly front-end software custom designed by JEM specifically for multispindle screw machines
Rough rise and feed rate, then finish rise and feed rate to position, then dwell can be applied
Independent electronic chip breaking function at each single axis servo slide station
Rotary spindle encoder for inch/rev feed rates, or mm/rev feed rates
Spindle identification switching for automatic indexing error offsets
Automated servo homing sequence eliminates reference position variations
Job setup configuration values easily exported and imported to simplify part changeover
Single Axis Servo Cross Slides shown in upper 4th and 5th positions on an Acme Gridley 1-1/4" RB-8: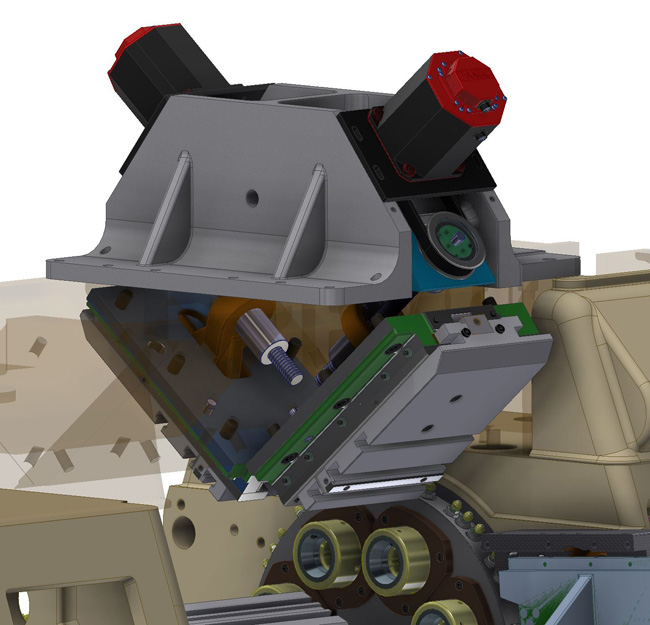 Single Axis Servo Cross Slides shown in lower 1st and 6th positions on an Acme Gridley 1-1/4" RA-6: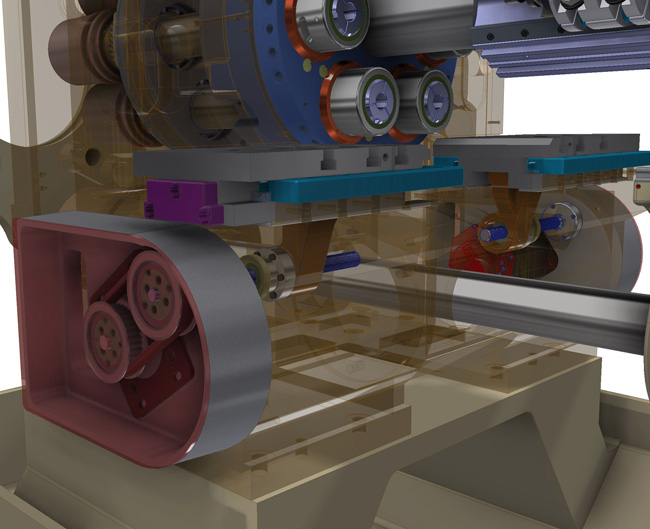 Typical configuration screen for Single Axis Servo Cross Slides with our Acme Gridley TechDrive Conversion.  On the right side of the screen, simply go down the "stack" to configure your specific cutting values to use during automatic cycle.  All of these values can be exported and imported with the job file to simplify part changeovers.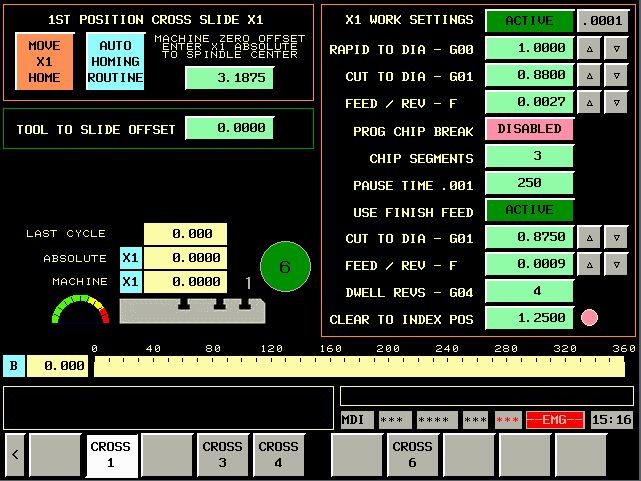 With a JEM Automatics TechDrive Conversion, if all machining cross slides and any utilized auxiliary slides are converted to servo control and no longer driven by the cam shaft, then the screw machine can run as a "full CNC" even though the main tool slide is still cam operated. A tool slide cam is installed with the longest rise you would possibly need, and if the desired rise is shorter than the installed cam, the servo drum remains at rapid speed past standard low point until the desired rise is what remains. The servo then decelerates to run the tool slide at the programmed feed rate for the remainder of the cam.
As with the other servo single axis cross slides, a rough rise and feed rate and then a finish rise and feed rate and then dwell can be applied as well as chip-breaking pauses. The independent axis main tool slide could also be utilized for machining such as peck drilling or other repetitive movements based on your setup.


5-Axis TechDrive Acme Gridley Multispindle Screw Machine:



Interested in our Single Axis Servo Cross Slide Retrofit? Simply fill out and submit the short form below - we will then review your specific requirements and follow up with a quotation and/or recommendation for your consideration.